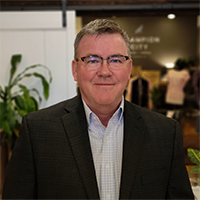 Chad Yancey
Director of Finance
Department: Staff
Chad Yancey, CPA has served as the Director of Finance and Administration for the Greater Springfield Partnership since February 2005. His duties include handling the financial and administrative duties of all 5 entities under the umbrella of the Partnership.
Prior to his position at the Greater Springfield Partnership, Chad held positions with several local companies including with Kone Materials Handling, Springfield Medical and Surgical Center, Clark Schaefer Hackett and Aetna Building Maintenance, Inc.
Chad served as a member of the Board of Trustees for Springfield Catholic Central Schools from 2012 to 2018. He served on the board of Catholic Social Services for 6 years, was a member of the United Way Admissions and Allocations Committee for 6 years and is a former member of Rotary International.
Chad is a 1983 graduate of Anderson University in Anderson, Indiana. He and his wife Kara live in Springfield, are members of St. Teresa Parish and Springfield Country Club. They have a son and daughter in law, Conner and Sydney (Gram), and a daughter, Erin.